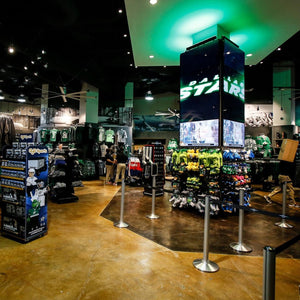 Your Source For Official Stars Merchandise!
The Hangar Team Stores offer the largest selection of officially licensed merchandise featuring your favorite Dallas Stars players.
The Hangar has 11 different locations within American Airlines Center carrying Stars merchandise and collectibles as well as The Hangar - PNC Placa, located just outside the south entrance at PNC Plaza, The Hangar - Frisco, located at Comerica Center, home of the Stars' practice facility and executive offices and The Hangar-Farmers Branch located inside the Children's Health Starscenter in Farmers Branch. 
Visit any one of our following stores: